In the spirit of the Truth and Reconciliation Commission of Canada's 87th Call to Action, the Saskatchewan Sports Hall of Fame marks National Indigenous Peoples Day by celebrating Indigenous excellence and achievement in sport and sharing their stories.
At the same time, the SSHF also looks to spotlight the challenges and hardships that the SSHF's Indigenous inductees overcame in achieving their goals. The SSHF currently has 10 individual inductees who identify as Indigenous. Each of those inductees has a unique story, but the ability to overcome hardships and a passion for giving back to their communities is a common thread with each athlete or builder.
The SSHF's current featured exhibit Grit celebrates great athletic determination so it was only natural that the stories of Indigenous success are highlighted.
Paul Acoose's story is featured as part of the exhibit. A gifted Nakawē (Saulteaux) distance runner from the Zagime Anishinabek (previously known as the Sakimay) First Nation, Acoose came from a long line of distance runners. His grandfather Quewich gained renown for his abilities as a hunter. While others rode horses while hunting buffalo, Quewich would shoot his arrows while pursuing the buffalo on foot. Paul's father Samuel Acoose was also a highly esteemed runner in his own right.
Accose's competitive running career was short, but remarkable all the same.
Acoose was the first winner of The Standard Marathon Trophy, emblematic of the 10-mile championship in the province of Saskatchewan. He won that first championship by more than eight minutes on July 1, 1908 in Regina, as he dominated the best runners in the province. His name is engraved prominently as the first provincial champion. The Standard Marathon Trophy is featured as part of Grit which is currently on display.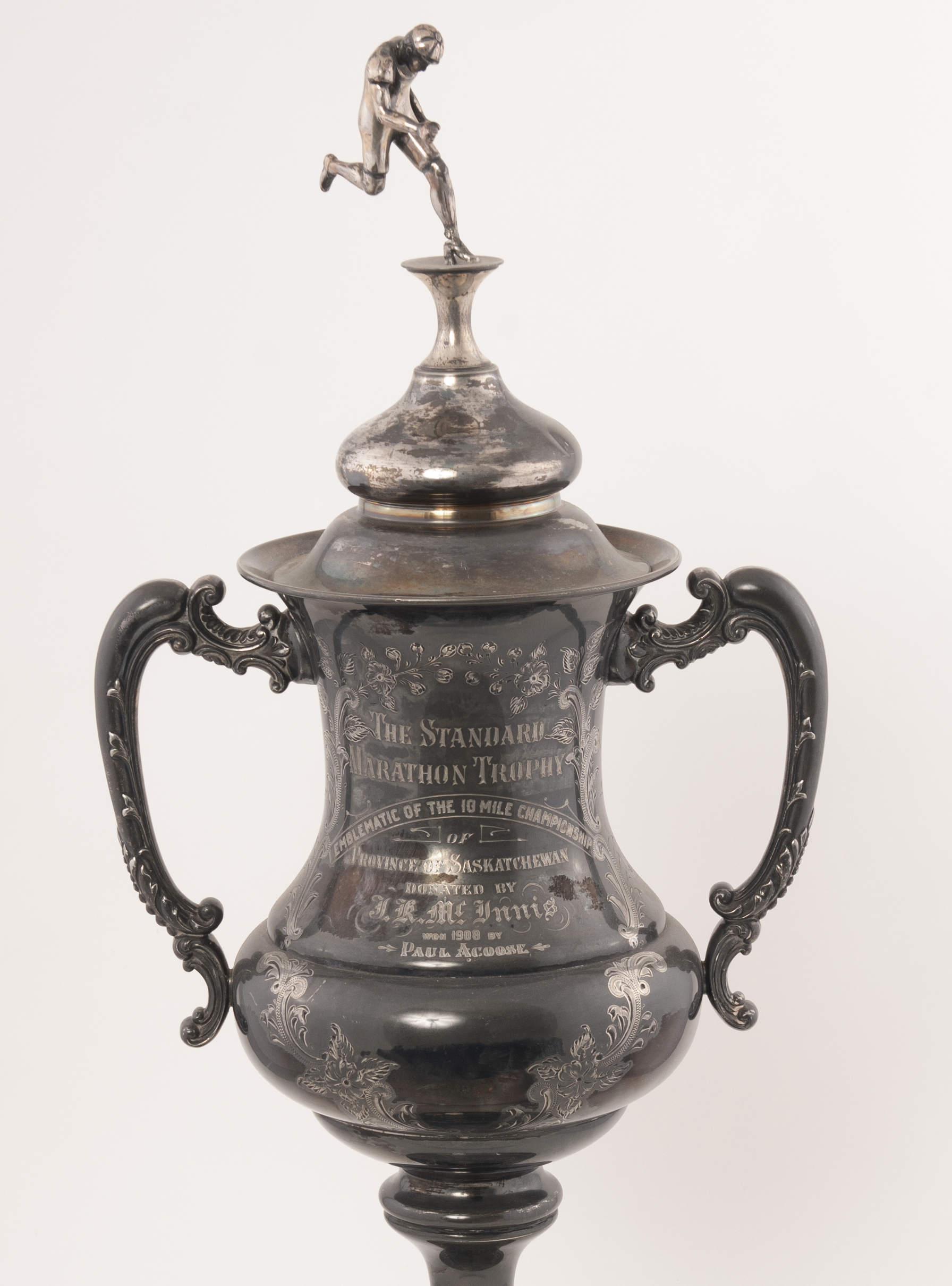 At the turn of the 20th century, match races were a popular spectator sport with opportunities to run professionally. After an impressive showing during a sports day in Grenfell, Acoose was offered a chance to become a professional in 1909. While that made him ineligible to compete at the upcoming 1910 Summer Olympics in London, Acoose accepted the offer.
In his first professional race, Acoose ran 15 miles in a world-record time of one hour, 22 minutes and 22 seconds and beat famed English runner Fred Appleby, a former world record holder and 1908 Olympic marathon runner. Acoose's record-breaking time earned him the title of world champion.
While match races drew notable crowds, they also drew plenty of interest from gamblers. When Acoose and Appleby met in a rematch in Winnipeg, gamblers were suspected of being the culprits of throwing tacks on the track. Appleby was unaffected in his rubber-soled shoes, but Acoose ran in moccasins that were easily penetrated by the tacks. He bravely carried on for two more miles in bare feet before having to bow out of a race he had been winning before being sabotaged.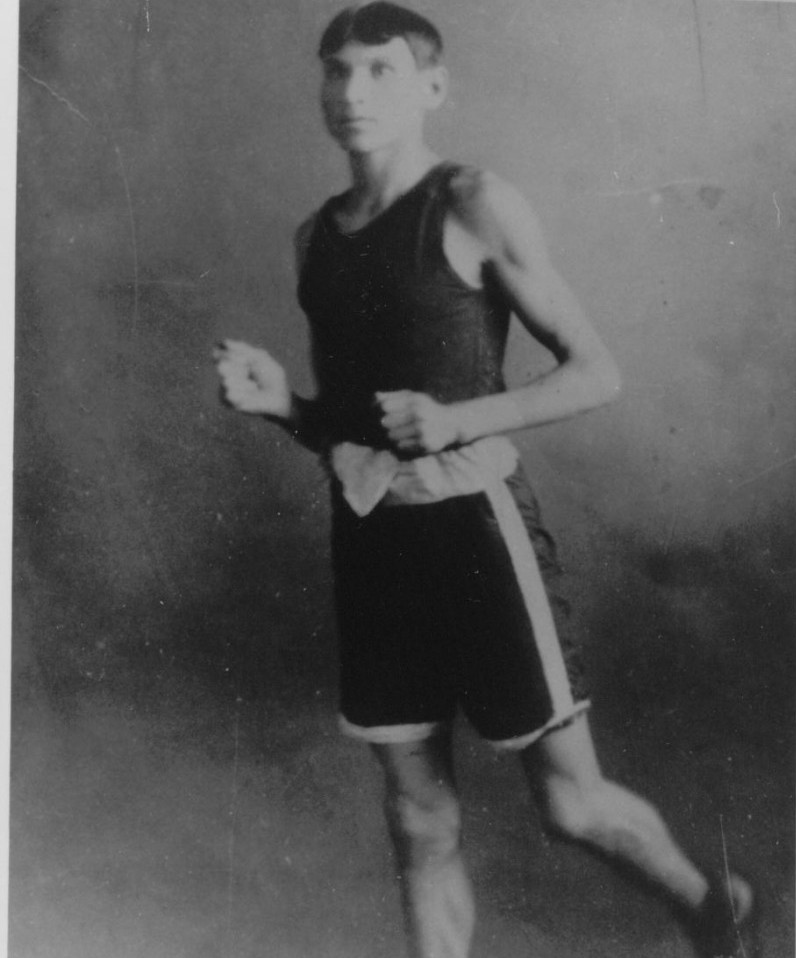 Acoose's biggest victory came against famed Onondaga runner Tom Longboat. Acoose had wanted to test himself against Longboat who had risen to fame after winning the Boston Marathon in a record time in 1907 and was considered the greatest marathon runner in the world. They met on March 30, 1910, in Toronto in a duel that Acoose won.
Despite only being 24 years old, Acoose retired from competitive racing and settled in Zagime Anishinabek with his wife Madeline where they farmed and raised nine children. He never drove a car and continued to jog into his 60s. Even in his late 70s would walk up to 10 kilometers to visit family and friends.
Paul Acoose was inducted into the Saskatchewan Sports Hall of Fame in 1983.
While The Standard Marathon Trophy is currently on display, the SSHF has partnered with the University of Saskatchewan to ensure that the majority of the artifacts in our collection honouring Indigenous athletes are on permanent display. A display case and video kiosk celebrating Saskatchewan Indigenous athletes and their achievements are on permanent display in the Physical Activity Complex at the University of Saskatchewan's College of Kinesiology in Saskatoon.
You can learn more about the other Indigenous inductees in the SSHF – Colette Bourgonje, Tony Cote, Alex Decoteau, David Greyeyes, Jacqueline Lavallee, Jim Neilson, Claude Petit, Fred Sasakamoose, and Bryan Trottier – on the SSHF website.
For the past year, the Hall of Fame has offered an outreach program titled, Indigenous Legacies in Sport, to schools across the province. The program is geared towards elementary school students and highlights some of the achievements and stories of Saskatchewan's great Indigenous athletes and builders.
The Saskatchewan Sports Hall of Fame is proud to be located in Treaty 4 territory, home to the Cree, Dakota, Lakota, Nakoda, and Saulteaux people since time immemorial and are the traditional homelands of the Métis Nation. The Saskatchewan Sports Hall of Fame also celebrates the history of sport and the people from the land that is covered by Treaties 2, 4, 5, 6, 8 and 10. These lands have been the home of the Cree, Dakota, Dene, Lakota, Nakoda, and Saulteaux people since time immemorial and are the traditional homelands of the Métis Nation.