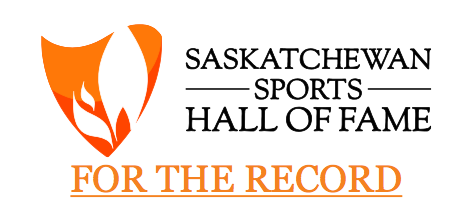 MESSAGE FROM PRESIDENT SCOTT WATERS
I am excited, honoured and humbled to have been elected President of the Saskatchewan Sports Hall of Fame (SSHF).  I will do my best to carry out my duties well, keeping in mind the many impressive and notable individuals who have held the position since the inception of the SSHF in 1966.  I would be remiss in not specifically acknowledging my immediate predecessor, Trent Fraser, whose passion and energy will be difficult to match.
A little about myself…I am a lawyer from Saskatoon, practicing with the firm McDougall Gauley LLP.  I have a beautiful wife, Carmen, and three children, who keep me very busy. I have been a member of the board of directors of the SSHF since 2006, and a member of the Executive Committee for several years.  During this time the SSHF has undergone great transition and has seen many improvements, including the addition of several exciting new staff members as well as a re-branding and updated website and full immersion into the world of social media.  It remains a priority to secure a more suitable location for the SSHF, which is necessary for ongoing success and sustainability.  In the meantime, we are focusing on providing the best product we can with our current resources and have made vast improvements to the current location; wherever possible ensuring such improvements are transferable to a new location.
On June 13, 2015 the SSHF held its annual Induction Dinner at the Conexus Arts Centre, which was a great success and celebrated a diverse group of athletes, teams and builders.  Many inductees, family and friends travelled great distances to attend the celebration, and they were treated to an excellent evening.  I would like to specifically acknowledge Sheila Kelly, Executive Director, staff and volunteers, as well as the Induction Dinner committee who all worked tirelessly to ensure the success of the event.
I would like to formally welcome a new member to the board of directors, and also acknowledge and thank three long-serving members of the board.  Joining the board is David Belof of Regina.  We look forward to working with David and are particularly excited about the experience and perspective he will bring.  I would also like to thank three board members who recently stepped down; Greg Indzeoski, Paul Spasoff and Steve Chisholm, who completed ten, eleven and four years of service, respectively.  During their tenure they all contributed greatly to the SSHF, particularly with regard to the Induction celebrations, Sport History committee, and Communications committee.
We are looking forward to participating in the 3rd Annual Rider Alumni Tournament (Saskatoon) being held Wednesday, September 23rd at Dakota Dunes Golf Course located south of Saskatoon.  We are also very excited for 2016, which will mark the 50th Anniversary of the SSHF; celebration plans are underway and will be revealed in due course.
On behalf of the SSHF board of directors I would like to wish you the best for the remainder of the summer and fall seasons.  Please stay in touch and stay connected with the SSHF through our website at www.sasksportshalloffame.com, our Facebook page at SaskSportsHF, our Instagram at SaskSportsHF and on Twitter @SaskSportsHF.
In addition to welcoming our new President, there have been plenty of other changes within the walls of the galleries. If you haven't already done so, we invite everyone to come check out our latest exhibit Dedication to Sport: Our Newest Inductees, which was officially opened in conjunction with the 49th Induction celebrations on June 13. Also, don't forget to put us in your calendars as the SSHF has multiple exciting events on the horizon!
To find out more on our latest happenings at the SSHF, download the full version of the newest For The Record, right here:
For the Record July/August 2015