DIAMOND GIRLS

Throughout our 50th anniversary the primary goal of the SSHF is to celebrate our inductees and showcase their back stories and accomplishments for the people of Saskatchewan. One very unique opportunity presented itself when Menagerie Productions and playwright, Maureen Ulrich, proposed a one-act, one-woman play featuring the Saskatchewan connection to the All-American Girls Professional Baseball League as a project to be pursued through the SSHF's Sport History grant.  With the support of Softball Saskatchewan, Women in Sport, Physical Activity & Recreation, and Saskatchewan Lotteries the project has become a reality.  Here is Maureen's back story to this unique 50th anniversary project.

DIAMOND GIRLS: DIAMONDS IN THE ROUGH

Writing a one-act, one-woman show about the rise and fall of a baseball league is challenging, especially when eighteen players plus officials, fans, and coaches are required to play an actual game. Diamond Girls focuses on the involvement of three Saskatchewan women – Arleene Johnson Noga, Mary Baker, and Daisy Junor – who participated in the All-American Girls Professional Baseball League (AAGPBL) during the 1940's.
My relationship with Diamond Girls began with a Leader-Post article about a dedication to Mary Baker at Central Park, Regina. A League of Their Own is one of my favourite movies – and I wanted to learn more about the role Mary and other Saskatchewan women played in the AAGPBL.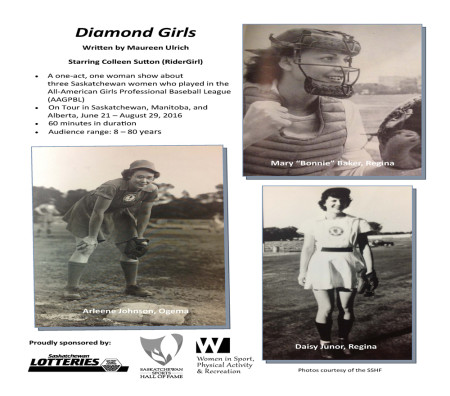 It has been thrilling and sobering to get to know them through nonfiction books, newspaper and magazine articles, yearbooks, letters, photographs, and interviews with their families and Arleene herself. Mary, Arleene, and Daisy not only played in the AAGPBL – they were stars. Furthermore they didn't stop competing when their pro baseball careers ended.
I deeply regret never starting down this path sixteen years ago when I first met Arleene – when many of the Saskatchewan ladies were still alive – but it simply did not occur to me. Nevertheless, Arleene, who played ball for six decades, has lost none of her passion or loyalty towards a league that sent her on countless road trips, many miles from home, to play in front of thousands of fans and set fielding records. In sportswriter Ned Powers' words, "There are a few women who could play a position as well as a man, and Arleene was one of them." Yes, Arleene has fueled my fire to get these three characters on stage as quickly as possible.
My first draft merely told their stories, but over time their competitive, vibrant, baseball savvy personalities have emerged, showing the audience how unique their experiences truly were. A process of continual revision has begun, as each word of dialogue and direction is carefully considered. How can I provide actress Colleen Sutton (RiderGirl) with the tools she needs to create clear and lasting images in the minds of her audience? After all she will be roleplaying multiple characters in a variety of settings – baseball diamonds and hotel rooms, even a television game show. Naturally I will lean heavily on Colleen's comedic and dramatic expertise. It is our goal to make every "inning" of Diamond Girls (yes, there are nine!) funny, gritty, enlightening, or poignant.
Like the AAGPBL teams, Diamond Girls will be on the road most of the summer.  Therefore, the set design must be minimal. Projections will be used at the beginning of the play both to create nostalgia and to acquaint the audience with the faces of all 25 Saskatchewan players. Two AAGPBL uniforms will be fabricated, as damage or loss of this important element would be devastating.
We are four months away from our first rehearsal in Estevan, but the groundwork for a solid, accurate, and entertaining story is slowly and carefully being laid. We hope you will see Diamond Girls if it travels to a community near yours. If you are interested in hosting a performance, please contact me or Sheila Kelly, as the tour schedule is still evolving.
I am indebted to the Saskatchewan Sports Hall of Fame (SSHF), the Saskatchewan Baseball Hall of Fame and Museum, Softball Saskatchewan, Women in Sport, Physical Activity & Recreation, and Saskatchewan Lotteries for their enthusiastic assistance and support. I especially look forward to helping the SSHF celebrate its 50th anniversary year.
Maureen Ulrich [email protected]
*Current Tour Locations and Dates (subject to change):
Estevan (Souris Valley Theatre) – June 2016 (exact dates TBA)
Weyburn (Tommy Douglas Performing Arts Centre) – June 27
Assiniboia (Olympia Theatre) – June 28
Regina (The Artesian) – June 30
Regina Fringe Festival – July 6-10
Winnipeg Fringe Festival – July 13-24
Edmonton Fringe Festival – August 11-21
Saskatoon (Broadway Theatre) August 28
*UPDATE: Please note that dates have changed for Diamond Girls performances. Updated information will be released in early May!