Saskatchewan Sports Hall of Fame Announces Class of 2015
On Thursday, April 16th, President, Trent Fraser, and Induction Celebrations Chair, Linda Burnham, announced the seven inductees who will become the newest members to be enshrined as part of the Class of 2015. The inductees will be officially inducted at the 49th Annual Induction Ceremony to be held at the Conexus Arts Centre on Saturday, June 13th, 2015.
During the announcement, Linda noted that: "2015 has been declared The Year of Sport in Canada by His Excellency the Right Honourable David Johnston, Governor General of Canada. The declaration from the Governor General celebrates the role that sport plays in our Canadian identity and its vital connection to the cultural fabric of our nation. Here, at the Saskatchewan Sport Hall of Fame, we certainly echo that sentiment which is truly embodied in our Class of 2015. We look forward to enshrining them during our Induction Celebrations in June. Their accomplishments will also be featured in our Dedication to Sport exhibit as we share with the people of Saskatchewan the great sport history of our province."
The Class of 2015 includes:
IN THE ATHLETE CATEGORY:
Cliff Koroll – Hockey
Milos Kostic – Triathlon
Jason Parker – Speed Skating
IN THE BUILDER CATEGORY:
Sharon Tkachuk – Athletics
Richard "Dick" White – Multi Sport
IN THE TEAM CATEGORY:
1985 Moose Jaw Generals AA Senior Men's Hockey Team – Hardy Cup Champions
2009 Eugene Hritzuk Senior Men's Curling Team – 2009 World Senior Men's Curling Champions
Tickets to the 49th Annual Induction Dinner & Ceremony are $100/person and are available directly from the Saskatchewan Sports Hall of Fame via 306-780-9232, [email protected], or online at www.sasksportshalloffame.com.
In addition to the announcement of our latest class, there is plenty more going on here at the Hall. We invite you to come and see everything that is new and exciting within our walls, including our latest exhibit Chalk, Wheat and Diamonds: Saskatchewan 'Ball.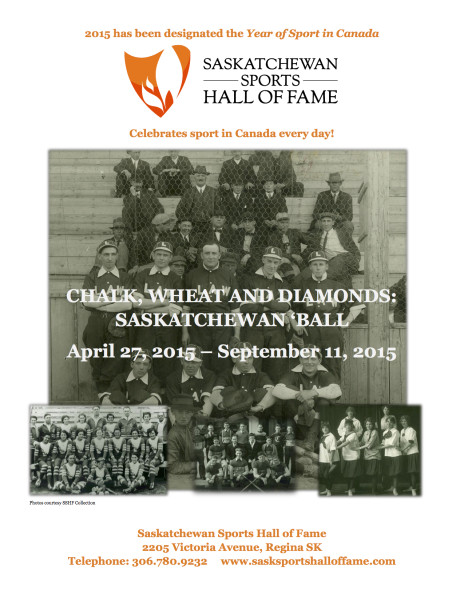 You can also find out more on our latest happenings by downloading the newest version of For The Record, right here: