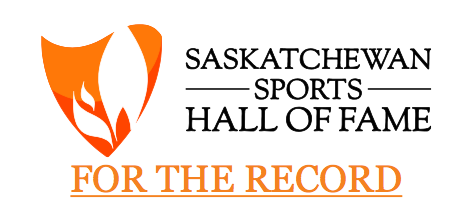 MESSAGE FROM PRESIDENT LINDA BURNHAM
Our 50th anniversary year is coming to a close and what a year it has been!
The celebrations throughout 2016 have included 3 major events, a 12 months-12 events series, as well as a dedication each week to one of our 51 represented sports.
Our first major event was Diamond Girls.  This was a one-woman play depicting the stories of the Saskatchewan women who played in the All-American Girls Professional Baseball League.  The play travelled throughout the summer and received great reviews on every stage.
Next came our travelling exhibit.  A semi-trailer, which has been retrofitted to house a display of artifacts, spent the summer travelling to a number of locations throughout the province.  Our inductees represent over 140 Saskatchewan communities and the travelling exhibit enabled us to take the Hall to the people. If you missed your chance to see it this year, watch for us again in 2017!
The Gala was our last major event of the year. This was a very entertaining evening and we provided those in attendance with a view into the history of the SSHF. More details of this memorable event can be found throughout this newsletter.
We wish to thank everyone who attended our events throughout the year.  We are very grateful for the support we received, and while we did not have an induction ceremony this year, we are currently reviewing the nominations for induction in 2017!
Our Board of Directors and staff also recently spent time at our annual retreat where we enjoyed getting to know each other, and also had a full day of business where our Strategic Plan was the focus of discussion.  That plan will take us into the future with goals and direction that we continually work towards.
Throughout this hectic year it has become evident that our staff and board members are very committed and engaged, which will ensure that the SSHF continues to celebrate, preserve and promote the phenomenal sports history of our province.
On behalf of the Board of Directors I would like to wish everyone a wonderful holiday season.  We hope you will connect with the SSHF personally as well as through our social medial channels.
Website: www.sasksportshalloffame.com
Facebook: SaskSportsHF
Instagram: @SaskSportsHF
Twitter: @SaskSportsHF
Review us on TripAdvisor
Best wishes,
Linda Burnham, President
To find out more on our latest happenings at the SSHF, download the full version of the newest For The Record, right here: