Sask Sport Inc. is the umbrella organization for amateur sport in the province. Each year Sask Sport comes together with members of the sporting community, as well as the media, to select a group of individuals and teams from across the province to vie for their annual Sask Sport Awards. This year the competition for these accolades was as close as ever, thanks to the fact that our province continues to produce world-class caliber participants.
The list of 2012 nominees was one of the most outstanding we have ever seen and included the best of the best from around the province not only in terms of athletes, but coaches, officials and volunteers as well. 2012 also included two key individuals who have contributed in major way to the Saskatchewan Sports Hall of Fame and we wish to provide them some special recognition for their achievements.
Saskatoon's Marg Tosh, has been an honoured member of the Saskatchewan Sports Hall Of Fame (SSHF) since 1978 and has played a major part in Canadian athletics history. Among her accomplishments, Tosh set a new Canadian open record in javelin at the Canadian Olympic trials in Hamilton, 1956. The record throw of 145'5" (44 m 32.3 cms) stood until 1964. Margaret competed in the Olympics at Melbourne, Australia in 1956. In 1957, at the Western Canada Championships, Margaret set a new provincial native record in javelin at 141 feet, 7 ½ inches (43 m 16.7 cms). She also finished first in the shot put. At the Commonwealth Games Trials in 1958, Marg placed first in javelin. A big congratulations goes out to her for being named 2012 Master Athlete of the Year for her continued success in athletics.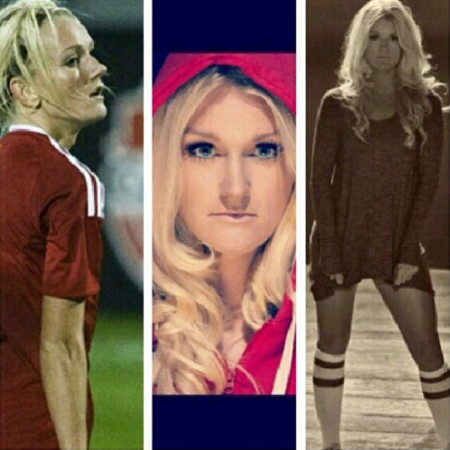 Kaylyn Kyle, also of Saskatoon, was the recipient of the Female Athlete of the Year award thanks to her performance at the London 2012 Olympic Games.  Kaylyn was an integral part of the Canadian Women's Soccer team who brought home the country's first ever medal in the sport of Women's Soccer and no doubt has set the stage for ongoing success in that arena. Earlier this year Kaylyn took time out of her busy schedule to come to the SSHF, sign autographs, take photos and inspire the youth of our province to chase their dreams no matter how big they may seem.
Of course, like Kaylyn many names on this list are still actively involved in sport and as such they are not currently eligible for induction into the SSHF. This does not mean, however, that they and numerous others may not someday have a home with us. The work they are putting in now is the hard part, after that they are welcome to be nominated for induction and a permanent place among the best in Saskatchewan sports history. The first step in that direction is of course nomination, which we welcome at any time and information on the subject can be found right here.
For the time being, we will enjoy the accomplishments of all of these athletes and builders as they continue to shape the face of sport in Saskatchewan for years to come. Below is a list of all this year's winner and we at the Sask Sports Hall Of Fame would like to send a heartfelt congratulations to each and every one of them.
2012 Master Athlete of the Year
Marg Tosh, 75, Saskatoon, Athletics
2012 Youth Male Athlete of the Year
Jarret Kenke, 18, Saskatoon, Canoe Kayak
2012 Youth Female Athlete of the Year
Katelyn Lehner, 17, Prince Albert, Athletics – Heptathlon
2012 Male Athlete of the Year
Kelly Wiebe, 23, Regina, Athletics
2012 Female Athlete of the Year
Kaylyn Kyle, 24, Saskatoon, Soccer
2012 Team of the Year
Saskatoon Hilltops, Saskatoon, Football
2012 Volunteer Awards
Errol Berenbaum, Saskatoon, Canoe Kayak Saskatchewan
Elan Paluck, Regina, Saskatchewan Baton Twirling Association
2012 Coach of the Year Award
Tom Sargeant, Saskatoon, Football Saskatchewan
2012 Coach Dedication Award – Male
Brendan Curson, Saskatoon, Canoe Kayak Saskatchewan
2012 Coach Dedication Award – Female
Myra Kirk, Saskatoon, Saskatchewan Baton Twirling Association
2012 Official Award – Male
Ken McArton, Dilke, Saskatchewan Curling Association
2012 Official Award – Female
Brenda O'Connor, Saskatoon, Saskatchewan Athletics
-Winners list courtesy of Sask Sport Inc.