Throughout 2016, the SSHF will be selecting one special event each month to feature in our "12 Months, 12 Events" 50th anniversary project – dedicated to all 505 of our inductees and Saskatchewan's rich sport history.
Our fourth event of the year served to celebrate The Keystone Cup in Regina.
A fan forum and autograph session celebrating the 2016 Keystone Cup Championship was hosted on April 15 and 16, 2016 at the Co-operators Centre in Regina. Since the Cup's inception, 2016 represented the first time this prestigious junior B hockey championship had been decided in Regina. The Extreme Hockey Regina Capitals hosted the 2016 Keystone Cup at the Co-operators Centre from April 14-17.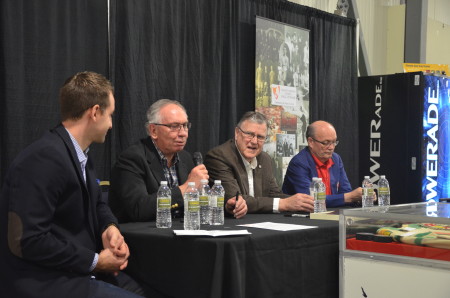 In attendance to help celebrate the Championship and our 50th anniversary were the following inductees and special guests:
Cliff Koroll (Saskatchewan Sports Hall of Fame Inductee – Hockey 2015)
Morris Mott (Saskatchewan Sports Hall of Fame Inductee – Hockey 1980)
Terry O'Malley (Saskatchewan Hockey Hall of Fame Inductee – 2016)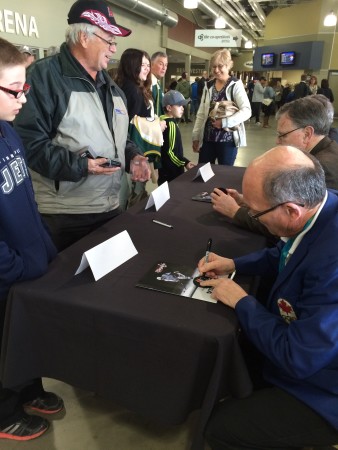 The SSHF would like to sincerely thank the Keystone Cup organizing committee and our Master of Ceremonies, Taylor Shire, for helping to make this event possible.
Don't miss your chance to help celebrate our 50th during our next special event!
The SSHF is extremely excited to be involved in the Heritage Fairs held throughout the province this year. For the first time in the history of the Fairs, a Sports specific award is being presented to a student during each Regional Fair (Regina, Saskatoon, Moose Jaw and Swift Current), and at the Provincial Fair held in Regina. We are thrilled about the opportunity for a standalone Sports Award and look forward to involving inductees in the presentation and judging of the awards.