On Wednesday, February 7, Ted Jaleta and Fred Sasakamoose starred in Never Give Up in Prince Albert, SK, made possible through the financial support of SaskEnergy.  The theme of 'never give up' is very prominent with SSHF inductee, Ted Jaleta, who not only is a world class runner, but an inspiration to people of all ages.  As told in his book, Never Give Up, Ted has endured many hardships growing up in Ethiopia and arriving in Canada, but with a positive outlook, courage, determination and hard work, he overcame obstacles and made the impossible, possible.  400 students in grades 3, 4 & 5 listened to the life stories of Ted & Fred and embraced their message of never giving up on your dreams.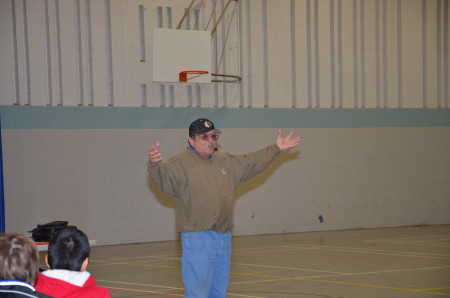 Fred shared with the students positive memories from his childhood including wearing bob skates that his grandfather made for him, while using a hand carved wood stick to play hockey on the lake.  He also shared some of his childhood struggles including leaving home at 6 years of age to attend a residential school and the abuse that he endured there.  He sees all of these episodes in his life as building blocks which helped him to achieve his dream of playing in the National Hockey League (NHL).  The first treaty Indian to play in the NHL, Fred went on to play 11 games with the Chicago Blackhawks.  While there he learnt of the need to accept diversity and he shared the importance of this with the Prince Albert students.  Upon leaving the Blackhawks Fred has made it his goal to help give others the same opportunities that he received.  He has worked extensively to build and develop minor hockey and other sports in his community.  At 79 years of age Fred makes it a priority to talk to children and encourages them to never give up on their dreams.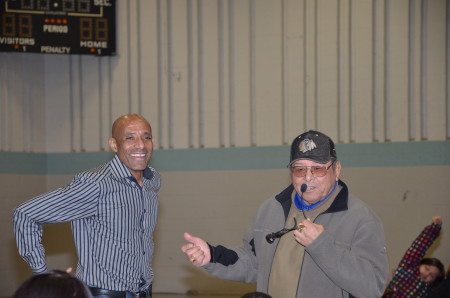 Ted told the students about the challenges of growing up in Ethiopia; the need to leave home – against his parents' wishes – in order to complete his high school education; and the civil war that tore apart his homeland and life as he knew it.  Escaping from war torn Ethiopia, Ted and his family immigrated to Canada in 1982 to begin life anew.  A successful long distance runner in Ethiopia, Ted used sport as a means to integrate himself into Canadian life.  It became a means to meet new friends, learn the language, and establish himself within his new community.  By 1986 Ted was once again long distance running and proving himself on the provincial, national and international level.  In 1997 Ted was ranked 7th in the International Master's Road Racers.  Ted shared with the children the need to treasure their education, never give up on their goals, and always be willing to give back.
The SSHF's Never Give Up program will be continuing in the communities of North Battleford (March 7) and Regina (March 14) with Ted being joined by Canadian sprint kayaker, Kia Byers.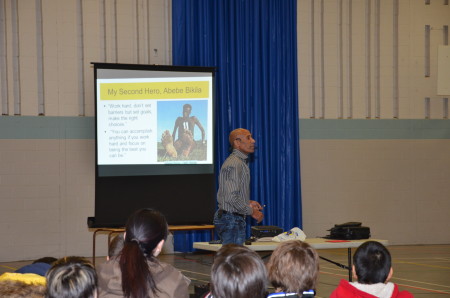 Words & Photos by Sheila Kelly