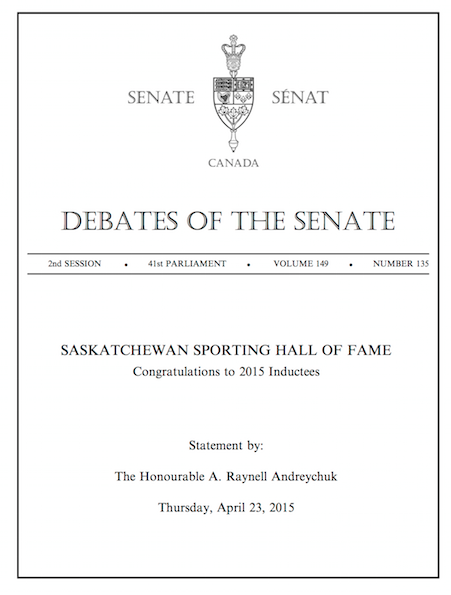 THE SENATE Thursday, April 23, 2015
SASKATCHEWAN SPORTING HALL OF FAME
CONGRATULATIONS TO 2015 INDUCTEES
Hon. A. Raynell Andreychuk: Honourable senators, I rise to congratulate the Saskatchewan Sporting Hall of Fame class of 2015. This year's inductees include the 1985 Moose Jaw Generals AA Senior Men's Hockey Team, whose record winning streak saw them take the 1985 Hardy Cup, and the Eugene Hritzuk Senior Men's Curling Team, which in 2009 took the World Senior Men's Curling Championship.
The inductees also include five individuals. Richard White is the longest-serving president of Canadian Interuniversity Sport. Dick served more than 30 years as the Director of Athletics at the University of Regina and 15 years as the President of the Regina Association of Basketball Officials.
Another inductee is speed skater Jason Parker, whose many titles include a silver medal in team pursuit at the 2006 Olympics in Turin. In a career spanning 20 years, Jason has competed in three Winter Olympics and 75 world cups and world championships.
The third inductee is triathlete Milos Kostic, who, in 25 years of competitive running, has completed 17 half Ironman and Ironman events, 70.3 triathlons and 20 Ironman or Iron- distance triathlons. A three-time Triathlon Canada Grand Master Triathlete of the Year, Milos holds the Ironman World Championship record in the men's 65 to 69 age group.
The fourth is hockey player Cliff Koroll, who, as captain for the University of Denver, led his team to win the 1968 NCAA Men's
Hockey Championship. Cliff played for the National Hockey League Chicago Blackhawks from 1969 to 1980. He later spent seven seasons as the Blackhawks' assistant coach and two as their public relations director.
Sharon Tkachuk is also being recognized as a builder in athletics for her 45-year officiating career. Sharon has refereed at four Canada Summer Games, three Commonwealth Games, and the 1983 World Student Games. In 2001, she was chief referee at the World Outdoor Championships in Edmonton. Sharon has also been a dedicated high school track and field, volleyball, softball, basketball and curling coach. She has been to Canadian junior and senior championships, the Canadian Interuniversity championships and the ParAthletic championships. Sharon has also served on the National Council of Fitness and Amateur Sport, the board of Saskatchewan Athletics, the Bob Adams Foundation and many others. She is also well known to students whom she has taught and nurtured.
The other inductees will no doubt understand if I point out that Sharon is part of the parliamentary family. Her husband, Senator Tkachuk, is justifiably proud of her, and we join him in that.
Hon. Senators: Hear, hear.
Senator Andreychuk: I invite all senators to congratulate this year's Saskatchewan Sporting Hall of Fame inductees. Their contributions to athletics and to Saskatchewan are a source of pride to their province and to Canada.
Hon. Senators: Hear, hear.
Download your copy of the official Senate document right here:
Congratulations to Class of 2015 – English