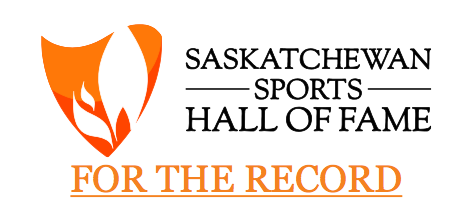 MESSAGE FROM PRESIDENT LINDA BURNHAM
I am honored to be President of the Saskatchewan Sports Hall of Fame (SSHF). I acknowledge I have big shoes to fill, and I thank our immediate Past President Scott Waters for his dedication and service. We have a long line of Past Presidents who have contributed to advancements and successes the SSHF has experienced over the past years.
2016 has been a milestone for the SSHF as we celebrate our 50th anniversary. We have made that celebration last the entire year and have showcased three major events as highlights.
Diamond Girls is a play about the Saskatchewan women who played in the All-American Girls Professional Baseball League.   The one-act, one-woman show has toured several provinces over the last few months and it has received rave reviews everywhere it has played.   We are so proud to be associated with Diamond Girls and proud to have some of those players as inductees in the SSHF.
Our next major event has been a traveling exhibit that is presently touring throughout communities in Saskatchewan.  Our 505 inductees represent over 140 Saskatchewan communities and the traveling exhibit has been our way of taking the Hall to the people.  Another major success, the traveling exhibit has provided us with great exposure throughout the province.
The final major event will be our Gala on September 30. We have chosen to forgo the induction of a new class this year in favor of celebrating the 505 current inductees.  The successes of these inductees is cause for celebration and we wish to recognize them once again in this evening planned to be a one of a kind event.  We will showcase several inductees in Hotstove panels representing Hockey, Football and Olympians. We also have some short videos prepared to showcase many of our inductees while it tells a story about the SSHF. We hope you will join us for this exciting evening.
While we celebrate our past, we also have challenges to accomplish ahead of us.  Our Board of Directors is a group of individuals who are dedicated to making things happen, and have proven qualified to do so.  Our plan is to still secure a new location for the SSHF which will allow us to better showcase the inductees and be more appropriate for the many wonderful artifacts we possess. We continue to search for sustainable fundraising to support the Hall.  We have big dreams and those come at big costs!
I do want to recognize the amazing staff we have at the SSHF.  They have all shown dedication to this year of celebration and have most willingly given of their time to ensure the success of every event.   Thank you to Sheila, Vickie, Brock, Autumn  and the summer staff, Amber, Danelle and Jenna, who have given the SSHF such dedication and commitment in this special year.
On behalf of the Board of Directors I thank you for your support.  Please drop by the Hall, or the traveling exhibit and experience what the Hall is all about. Saskatchewan is a great sporting province. We recognize excellence. We celebrate sport.
Best wishes,
Linda Burnham, President
To find out more on our latest happenings at the SSHF, download the full version of the newest For The Record, right here: