This past Tuesday we had the privilege of hosting a number of our past presidents in the first of what will become a regular event. These individuals have seen the Saskatchewan Hall of Fame (SSHF) through many important milestones over our 47 year history.  The meeting was an opportunity to share the vision of the current Board of Directors, receive feedback about this direction, and encourage the continued involvement of everyone in the SSHF's operations.
What an opportunity!  While still very committed to the SSHF, it's a rare day – if ever – that we have been able to get all of these individuals in the same room at the same time.  Such camaraderie and shared vision was immediately evident, and all still hold that shared passion for the SSHF.  Over lunch the future direction of the SSHF was discussed and critiqued, resulting in the knowledge that our future can be very bright.
Included in this post is a photo of the SSHF presidents and a recap of when each of them were at the helm of one of the most storied pieces of Saskatchewan sports history.
We would like to thank each and every one of the individuals who were able to take time out of their busy schedules to be a part of this and we look forward to seeing more of them in the future.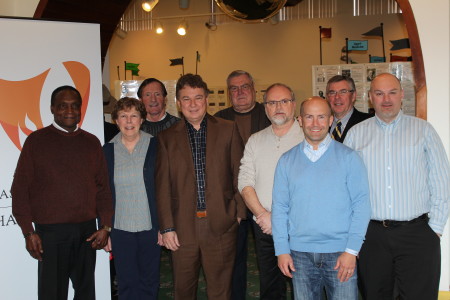 From left to right: Back Row: Alan Ford (2007), Cas Pielak (2000), Robert Millar (2004)
Front Row: George Reed (1980-1984), Marlene Hoffman (1999), Hugh Vassos (2011 – Current), Barry Taman (2006), Craig Adam (2008), Paul Spasoff (2009,2010)