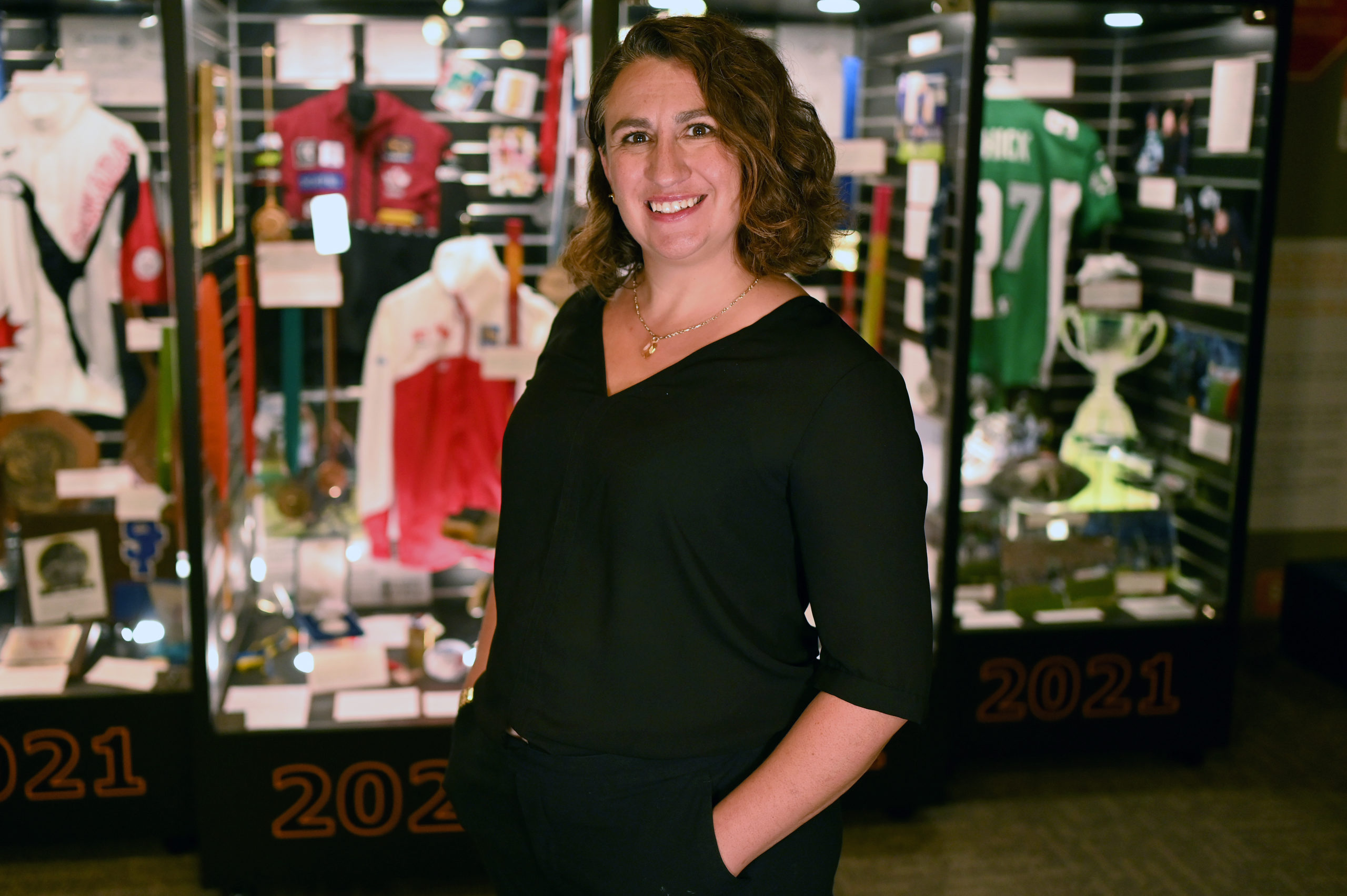 The Saskatchewan Sports Hall of Fame (SSHF) is pleased and excited to announce that Erin Stankewich is the new Executive Director of the Hall of Fame.
Stankewich began her tenure with the SSHF on July 17 and brings with her a wealth of experience in progressive leadership roles. She has a strong set of skills related to strategic planning, brand development, funding negotiation, creative direction, graphic design, and building collaborative partnerships.
With her rich skillset and passion for collaboration and development, the Board of Directors of the SSHF feels she is the ideal person to lead the SSHF forward into the future.
"Erin brings with her a unique set of experience and passion, which is perfect for the Saskatchewan Sports Hall of Fame," said Trent Blezy, Chair of the Saskatchewan Sports Hall of Fame. "She carries with her an incredible desire for sport and community. Under Erin's leadership, we are confident she can grow our organization into the next stage of the Hall's storied history."
In her most recent job, Stankewich served as the Director, Business Development for the Regina Hotel Association. One of her key responsibilities was to work with community partners in a collaborative manner to identify and bid on national and international sport and business events. In her time in the role, Regina successfully won the right to host the 2024 Brier, the recent 15U Girls Volleyball Canada Nationals, and the upcoming 2023 Little League Baseball Nationals and Baseball Canada Cup along with many other events. Stankewich has proven experience in marketing Regina and Saskatchewan, as a premier sport and tourism destination on the national and international stage. Previous to assuming that role with the Hotel Association, she worked in sponsorship investment for the same organization which will benefit the SSHF.
Born in Moose Jaw, Stankewich received a Diploma in Communications Arts from Lethbridge College and later completed a Bachelor of Applied Arts from Medicine Hat College. Upon graduation, she began her career in Regina advertising agencies first as a graphic designer, then transitioning into client-facing account management roles.
Stankewich is passionate about building healthy and inclusive communities and volunteers her time towards these values. She is currently the Vice Chair on the Board of Directors for the Queen City Marathon and previously served on the Board of Directors for Special Olympics Saskatchewan for three years.
Stankewich was hired after an extensive search and hiring process led by Leadership Source of Regina and the SSHF Hiring Committee.
She takes over from Sheila Kelly who served as the Hall of Fame's Executive Director for 34 years with great distinction before taking a medical leave in March of 2023 which concluded her tenure with the SSHF.