Inductee Open House – Celebrate with the Class of 2015
Join us on Saturday as we celebrate excellence in sport and showcase our newest inductees during a public open house.
 Members of our Class of 2015 will be present for the duration of the event including:
Cliff Koroll – Hockey
Jason Parker – Speed Skating
Sharon Tkachuk – Athletics
Richard "Dick" White – Multi Sport
1985 Moose Jaw Generals AA Senior Men's Hockey Team – Hardy Cup Champions
2009 Eugene Hritzuk Senior Men's Curling Team – 2009 World Senior Men's Curling Champions
Get some autographs, challenge someone to a game on the sport simulator, and generally have a lot of fun! Refreshments will be served.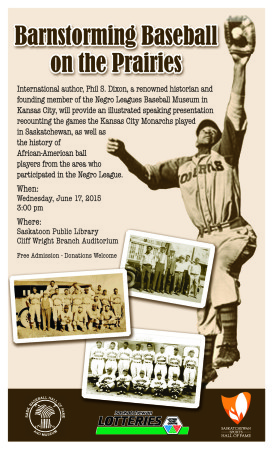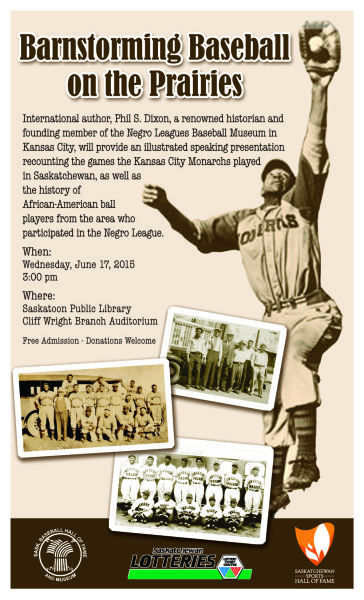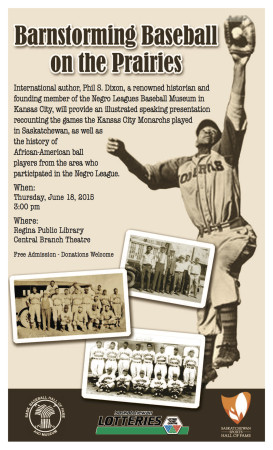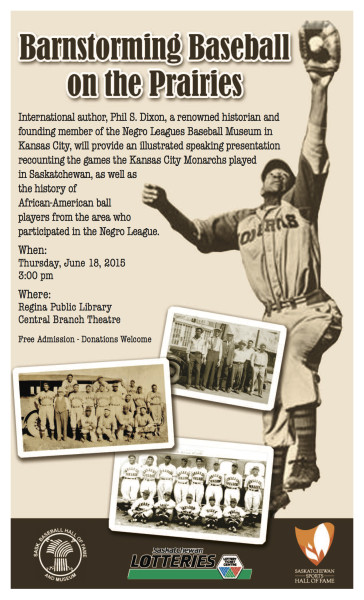 Barnstorming Baseball on the Prairies Commemoration Tour
* Wednesday, June 17, Saskatoon *
* Thursday, June 18, Regina *

Renowned historian, founding member of the Negro Leagues Baseball Museum in Missouri, and author of nine baseball books, Phil S Dixon is coming to Saskatchewan.
The Saskatchewan Baseball Hall of Fame and the Saskatchewan Sports Hall of Fame are pleased to host Mr. Dixon for public audiences in both Saskatoon and Regina.
Mr. Dixon will deliver a short presentation highlighting stories from the years of the baseball barnstorming tours.  He has spent two years traveling throughout the United States and now into Canada, delivering speeches in centres along the path of one of the most famous barnstorming teams – the Kansas City Monarchs.
His passion and enthusiasm for this historic team shines through in Phil's illustrated appearance. Using baseball poetry and transcribing stories from interviews with hundreds of athletes, Phil will take his audience back in time to the small town sports fields of Saskatchewan where locals would spend an afternoon being entertained by the likes of Satchel Paige or Bullet Rogan.
Presentations will be held on Wednesday, June 17, at 3:00 pm at the Saskatoon Public Library, Cliff Wright Branch auditorium and Thursday, June 18, at 3:00 pm at the Regina Public Library, Central Branch theatre.
Admission is free but donations to the Halls of Fame are always welcome. Light refreshments will be available.
Support for this program is made possible through funding from Saskatchewan Lotteries.
Additional Information can be found here