The Saskatchewan Sports Hall of Fame (SSHF) is pleased to announce the seven (7) inductees who will become the newest members of the SSHF this fall.
The 55th Annual Induction Dinner & Ceremony at the Conexus Arts Centre in Regina on Saturday, September 23, 2023. Tickets are now available by completing the form at the bottom of this page.
The Class of 2023 features four inductees in the athlete category and three in the builder category.
The 2023 inductees are:
IN THE ATHLETE CATEGORY:
Jaime (Cruickshank) Boyer (Saskatoon) – Multi-sport
Ryan Getzlaf (Regina) – Hockey
Joan McEachern (Leroy) – Soccer
Hayley Wickenheiser OC (Shaunavon) – Hockey
IN THE BUILDER CATEGORY:
Lorne Lasuita (Wynyard) – Multi-sport
Bernadette McIntyre (Bethune) – Curling
Noreen Murphy (Saskatoon) – Softball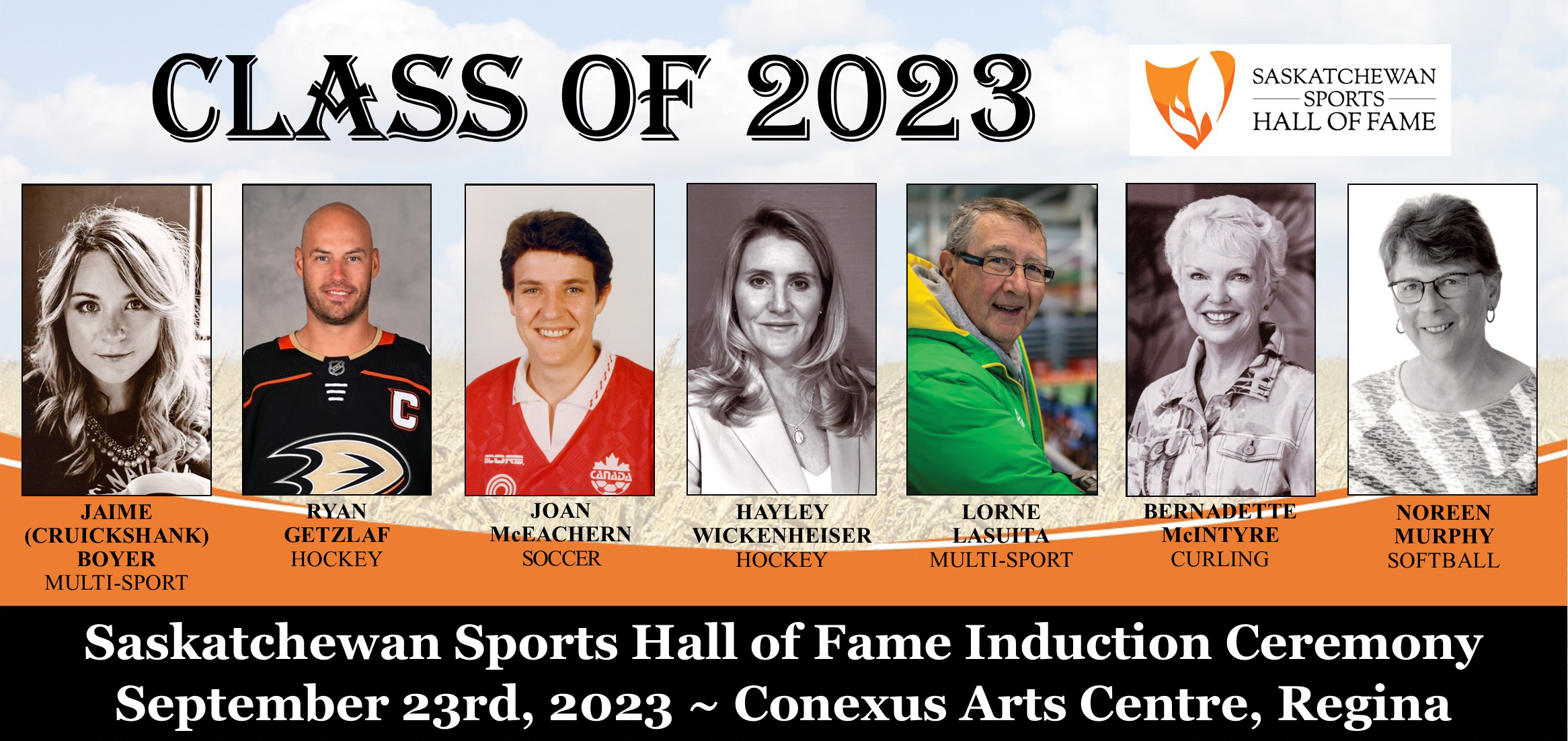 This incredible induction class includes three Olympic athletes – two of which won multiple gold medals – and a member of the first Canadian team to compete at the FIFA Women's World Cup. The three builders each have decades of experience contributing to the growth of sport in the province.
Jaime (Cruickshank) Boyer competed internationally in both power tumbling and trampoline as well as athletics as a young athlete before competing at the 2006 Turin Winter Olympics in bobsleigh.
Ryan Getzlaf won a pair of Olympic gold medals in men's hockey (2010 & 2014) as part of eight international competition he took part in. Getzlaf also won the Stanley Cup in 2007 as part of a 17-year National Hockey League career with the Anaheim Ducks.
Joan McEachern was part of the Canadian squad that made their debut at the FIFA Women's World Cup in 1995. She won the Canada Soccer National Club Championship four times during the pre-professional era of women's soccer.
Hayley Wickenheiser is one of the most decorated Canadian athletes of all time. She has won four Olympic gold medals and a silver medal in women's hockey and also represented Canada in softball in the Summer Olympics. Wickenheiser is Canada's all-time leader in goals, assists, points and games played. She is also the all-time points leader in the Olympics and the IIHF world championships which she has also won seven times.
Lorne Lasuita has been involved in 52 multi-sport events, including the 2004 Summer Olympics. He has represented Team Sask at 18 Canada Games and has been involved in all but one of the 25 Saskatchewan Games to date.
Bernadette McIntyre was the bid committee chairperson for the Olympic Curling Trials, the men's world curling championship, three Briers, and two Scotties in Regina. She also was the co-chair of the 2018 LPGA CP Women's Open and was part of the Grey Cup festival leadership team in 2013 and 2022.
Noreen Murphy was on the staff for Canada's national softball for 14 years including the 1996 Atlanta Olympic Games. She was also the head coach of the national junior team. She won eight provincial titles in eight years as a coach in Saskatoon as part of her storied coaching career.
The Atlas Hotel (4177 Albert Street, Regina) is the host hotel for the 2023 Induction Dinner & Ceremony.
Guests can book their accommodations online, by contacting the hotel directly at 1-306-586-3443 or by emailing 

[email protected]

and quoting the following Block Code 092223SHF.
The Room rate is $149.95 (plus 11% tax & 3% Destination Marketing Fee) for a double room (2 Queen beds). Maximum occupancy of five people per room (2 adults and 3 children). Additional adults will be charged $15 each.
Room rate includes a hot breakfast and complimentary parking.
Check-in is at 4:00 p.m. or later. Check-out is 11:00 a.m.
The Atlas' cancellation policy is as follows:
24 hours or less (based on 4:00 p.m. check-in time) will result in a charge of 100% of one night's total guestroom cost.
1 to 3 days' notice (25-72 hours before check-in time) will result in a charge of 50% of one night's total guestroom cost.
3 or more days' notice (73+ hours before check-in time) will not incur a charge
The Block hold will be released on August 25, 2023. Individuals can still reserve rooms but now it will depend on availability and may be at a different rate.
Tickets are no longer available for this event.