Kaylyn Kyle may be one of the best young athletes our country has to offer at the moment, and the fact that she grew up right here in Saskatchewan has seen her help the sport grow on a grassroots level like never before. She has traveled the world with the National team, winning medals and making a name for herself, all while wearing her hometown and province proudly.
Recently she came home after capturing Olympic bronze in London to a slew of media requests and appearances that have seen her personal time all but disappear. Amongst this frenzy however Kaylyn has managed to maintain a poise and demeanor that has endeared her to both the media and fans everywhere she goes.
One of her recent appearances saw Kaylyn visit us at the Hall of Fame for an autograph signing and photo opportunity where that poise, demeanor and grace were on full display. Not only is Kyle a talented young lady, but also her skill and comfort level in front of a camera give her the well-rounded skill set it takes to become an international superstar.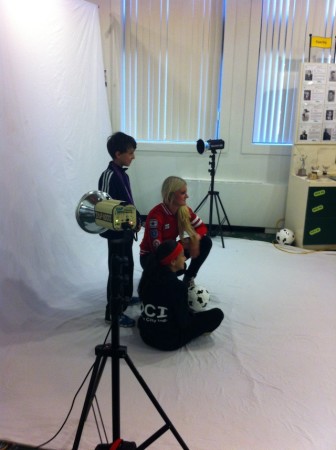 As she fielded questions and requests from fans young and old, Kaylyn's smile never faded and it was clear to see that she really does relish every moment she has in this position. She is doing everything she can to see that the momentum she has helped gain for the sport of soccer is not lost on the youth of our community.
Kaylyn was happy to spend a few hours of her Saturday hanging out and making sure that ever jersey, ball, card and shoe that needed an autograph got one, and that every aspiring soccer star that passed through our doors got the opportunity to wear her medal in a photographic memory that will last a lifetime.
So as you look through the photos on this post, remember that dreams do come true and that if you set your mind to something there really is nothing you can't accomplish and Saskatoon, Saskatchewan's Kaylyn Kyle is living proof of that.