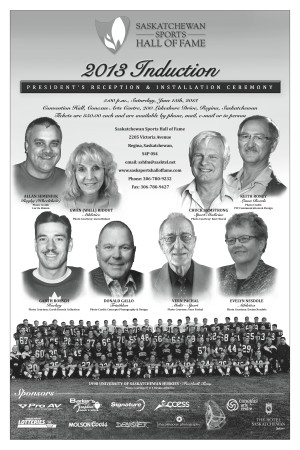 We are now only a few days away from our 47th Annual Induction Ceremonies.
Please remember that the format of the induction celebrations has changed.  The President's Reception hosted from 5 – 6 p.m. is your opportunity to visit and eat!  The Centre of the Arts has a delicious menu planned and we encourage everyone to arrive promptly at 5 p.m. in order to adequately enjoy the spread prior to the Induction Ceremony that begins at 6:15 p.m.  We are once again pleased to include a Parade of Past Inductees to start the induction festivities off whereby we celebrate the achievements of those past inductees in attendance.  Following our June 15 induction we will have 488 inductees installed in the Hall of Fame.  It is a very impressive group and one that is collectively worth celebrating every chance we get.
Congratulations to the Class of 2013 members: Garth Boesch, Allan Semeniuk, Vern Pachal, Keith Roney, Gwen (Wall) Ridout, Donald Gallo, Chuck Armstrong, Evelyn (Gorin) Nesdole, and the 1998 University of Saskatchewan Huskies Football Team.  We look forward to officially welcoming you into the Saskatchewan Sports Hall of Fame.